New Releases
1
Literature in the Laboratory
January 30, 2019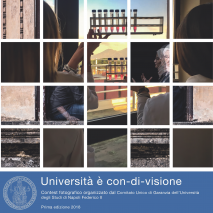 1
University is sharing
January 30, 2019
This platform hosts open access e-book series published by the Universities that are members of SHARE (Scholarly Heritage and Access to Research): Basilicata, Campania Luigi Vanvitelli, Napoli Federico II, Napoli L'Orientale, Napoli Parthenope, Napoli "Suor Orsola Benincasa", Salerno and Sannio.
The publication of book series, with the editorial name of SHARE Press and / or with the editorial name of the publishing university, is made at the request of one of the contracting entities.
All SHARE publications must satisfy precise minimum requirements, be original in content, and in a format apt for verification and reuse in other research activities.
SHARE books are also made available for free on Google Books and are listed in DOAB (Directory of Open Access Books).
---
Series