Opioid and Cannabis in Pain Control
Synopsis
Publisher: FedOA - Federico II University Press. 
Series: Phármakon. 
Pages: 224.
Language: Italiano.
NBN: http://nbn.depositolegale.it/urn:nbn:it:unina-22268
Abstract: Opioid and Cannabis in Pain Control is the result of studies performed by the Pharmacy Department and the "Centro Interdipartimentale di Ricerca in Farmacoeconomia e Farmacoutilizzazione" (CIRFF) of the University of Naples, "Federico II". This book is aimed to those who work in a pharmacy and who, scholars, teachers or students, are interested in delve into the issue. The text analyzes different topics with an interdisciplinary approach. A large part is devoted to the chemical and pharmacological aspects related to this topic. Subsequently, the text focuses the theme, still very debated, of using opioids and Cannabis in therapy through an exhaustive analysis of the entire existing legislation: from the first laws promulgated by the Kingdom of Italy until the last ministerial circulars by Italian republic. Finally yet importantly, an important part of the book focuses on medical and therapeutic interpretation with regard to the effects on pain control, where opioids and Cannabis are not only a fruitful frontier of research, but also a consolidated and effective tool to counteract some types of pain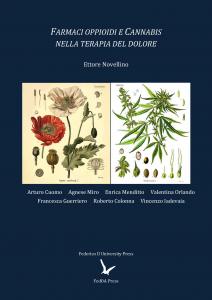 Published
January 30, 2018
Copyright (c) 2018 Ettore Novellino, Arturo Cuomo, Agnese Miro, Enrica Menditto, Valentina Orlando, Francesca Guerriero, Roberto Colonna, Vincenzo Iadevaia
This work is licensed under a Creative Commons Attribution 4.0 International License.
Details about this monograph
ISBN-13 (15)
978-88-6887-025-6
Date of first publication (11)
2018-01-30
doi
10.6093/978-88-6887-025-6