Languages and Ideologies of the Aragonese Monarchical Renaissance (1442-1503): Forms of Legitimacy and Systems of Government
Synopsis
Publisher: FedOA - Federico II University Press. 
Series: Regna. Texts and Studies on Institutions, Culture and Memory in Medieval Southern Italy. 
Pages: 169. 
Language: Italian.
NBN: http://nbn.depositolegale.it/urn:nbn:it:unina-22310
Abstract: The book focuses on the particular historical-political context of the Kingdom of Naples in the Aragonese period (1442-1503), and explores the variety of languages related to political practice: juridical, literary, artistic, political languages are analyzed in their specificities, but also in their reciprocal osmotic relations. This volume offers a conclusive reflection after a conference organized in Naples, and integrates interdisciplinary perspectives. It tests and refines the hypothesis concerning the gradual development of a complex organism that – through literature, oratory, political treatises, artistic representations and administrative practices – goes in the direction of a "state system", which still operates under the guidance of sovereignty.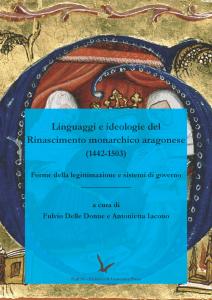 Published
February 11, 2018
Copyright (c) 2018 Fulvio Delle Donne (Editor); Antonietta Iacono
This work is licensed under a Creative Commons Attribution 4.0 International License.
Details about this monograph
ISBN-13 (15)
978-88-6887-026-3
Publication date (01)
2018-02-11
doi
10.6093/978-88-6887-026-3