Erudition and Historical Culture in Nineteenth-Century Sicily: The Correspondence between Michele Amari and Raffaele Starrabba
Synopsis
Publisher: FedOA - Federico II University Press. 
Series: Scuola di Scienze Umane e Sociali. Quaderni.
Pages: 307.
Language: Italian.
NBN: http://nbn.depositolegale.it/urn:nbn:it:unina-22332
Abstract: Through the correspondence between Michele Amari (1806-1889) and Raffaele Starrabba (1834-1906), the volume provides a glimpse of the historiographical panorama of the Italian nineteenth century in the crucial period that followed the birth of the Nation. The correspondence also illuminates the figure of Baron Starrabba, who played a fundamental role in the local archival administration and was the founder, with Isidoro Carini, of the Sicilian Society for the History and of its periodical, the "Archivio Storico Siciliano".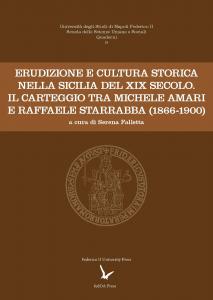 Copyright (c) 2018 Serena Falletta
This work is licensed under a Creative Commons Attribution 4.0 International License.
Details about this monograph
ISBN-13 (15)
978-88-6887-033-1
Date of first publication (11)
2018-03-24
doi
10.6093/978-88-6887-033-1