Parliaments in Naples during the Aragonese Era
Synopsis
Publisher: FedOA - Federico II University Press. 
Book Series: Regna. Texts and Studies on Institutions, Culture and Memory in Medieval Southern Italy
Pages: 540
Language: Italian.
NBN: http://nbn.depositolegale.it/urn:nbn:it:unina-22326
Abstract: The volume edits all sources relating the Neapolitan parliaments during the Aragonese era. Reintroducted in Southern Italy by Alfonso the Magnanimous, parliaments were an important institution for the relations between the Crown, the barons ad the desmenial towns, although it was not the only occasion of negotiating. The analysis of seventeen parliaments and other similar assemblies (regional parliaments, afforced Royal Councils) allow us to study the entire history of the Kingdom from 1441 to 1500. In this context the authors examine the parliaments' proceedings, records, motivations and conclusions. The Neapolitan parliaments were not regular but had important different functions, according to the historical context and the different positions of the Kings, on one side, and of summoned members, on the other side. Taxation and justice were the main issues of the political and symbolic confrontation between the sovereign and the subjects.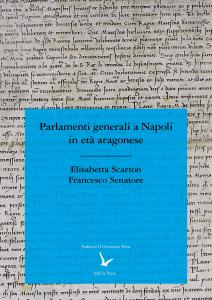 Copyright (c) 2018 Francesco Senatore, Elisabetta Scarton
This work is licensed under a Creative Commons Attribution 4.0 International License.
Details about this monograph
ISBN-13 (15)
978-88-6887-027-0
Date of first publication (11)
2018-03-05
doi
10.6093/978-88-6887-027-0