Medicine and Science of Man: Paul-Joseph Barthez and the Montpellier School
Synopsis
Publisher: FedOA Press (Federico II University Press).
Series: School of Human and Social Sciences. Working Papers.
Pages: 188.
Languages: Italian; English.
NBN: http://nbn.depositolegale.it/urn:nbn:it:unina-22035
Abstract: This book focuses on the new anthropology elaborated by the physicians-philosophers of Montpellier in the second half of the 18th century, in particular, Paul-Joseph Barthez (1734-1806). In the wake of scepticism and empiricism, Barthez plans a science of man which rests upon physiological foundations and assimilates the respective resources of medicine and philosophical reflection. This essay first reconstructs the historical-cultural context in which the author's writings came into being; second, it examines the texts in which its science of man takes shape, by highlighting the methodology, conceptual tools and theoretical implications.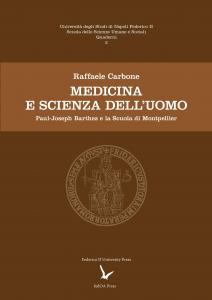 Published
September 14, 2017
Copyright (c) 2017 Raffaele Carbone
This work is licensed under a Creative Commons Attribution 4.0 International License.
Details about this monograph
ISBN-13 (15)
978-88-6887-014-0
Publication date (01)
2017-09-14
doi
10.6093/978-88-6887-014-0