The Neapolitan Society of Homeland History and the Process of Nation Building in Italy
Synopsis
Publisher: FedOA Press (Federico II University Press).
Series: School of Human and Social Sciences. Working Papers.
Pages: 295.
Language: Italian.
NBN: http://nbn.depositolegale.it/urn:nbn:it:unina-22309
Abstract: The Neapolitan Society of Homeland History was created in 1875 through the will of some Neapolitan politicians and scholars, who borrowed its structure from previously established historical societies. Like the other Italian institutions, the Neapolitan association was also primarily interested in the publication of sources, the defense of autonomy, and the attempt to reconcile the smaller and the larger nation. The objective was twofold: to reinforce the ties between the local people and the Savoy dynasty, and to underline, through historical memory, the local contribution made to the process of nation building. Through the biographical reconstruction of some members of the Neapolitan historical society, it is well understood that nothing that happened in the city took place far from the institution; from the control of public instruction to the protection of monuments, to the administration of charity organizations. Although there were already some prestigious cultural associations, the historical society knew how to create a wide network of relationships, thanks to the policy of open membership and a fairly accessible membership fee. The events which took place at this institution, reconstructed here from its founding to 1946, through previously unpublished documentary sources and a full bibliography, are thus useful for those who wish to learn about the cultural dynamics of southern continental Italy and the period following the Unification.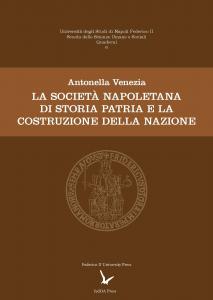 Published
December 28, 2017
Copyright (c) 2017 Antonella Venezia
This work is licensed under a Creative Commons Attribution 4.0 International License.
Details about this monograph
ISBN-13 (15)
978-88-68870-24-9
Date of first publication (11)
2017-12-28
doi
10.6093/978-88-68870-24-9