Before and after Cavour: Music between the Savoy Kingdom and Unified Italy (1848-1870). Proceedings of the International Conference held in Naples, November 11-12, 2011
Synopsis

Publisher: ClioPress. Editoria digitale per la didattica e la ricerca storica.
Pages: 348.
Language: Italian.
NBN: http://nbn.depositolegale.it/urn:nbn:it:unina-22052
Abstract:  This volume is the result of the "Before and After Cavour: the music between Sabaudo State and United Kingdom (1848-1870)" conference, held in 2011 during the celebrations for the bicentenary of the birth of Cavour and the 150th of the Italian unification
Indice
Enrico Careri, Enrica Donisi, Premessa
Elio Matassi, Il nazionalismo musicale, Giuseppe Martucci, l'estetica di Antonio Tari e la musica assoluta
Rossella Del Prete, L'avventura imprenditoriale della musica nell'Ottocento: i luoghi, i protagonisti, il sistema produttivo e di fruizione, l'editoria
Luca Aversano, La musica nella scuola tra Cavour e l'Italia unita
Enrica Donisi, Echi risorgimentali nella Scuola violoncellistica di Napoli
Annunziato Pugliese, Giorgio Miceli, Paolo Serrao e Andrea Cefaly, due musicisti e un pittore calabresi sulla scena risorgimentale
Francesco Bissoli, Mito e coralità nell'Assedio di Firenze (1856-1860) di Giovanni Bottesini
Antonio Rostagno, Dibattito politico e melodramma risorgimentale. L'esempio del tema del perdono
Giovanni Guanti, Costantino Nigra e la sua romantica filologia musicale
Giorgio Ruberti, Mezzogiorno e Risorgimento nel (contro)canto popolare
Claudio Gison, Il mito di Michelangelo nel teatro musicale del Risorgimento
Simona Frasca (con un contributo di David Riondino), Appunti per un Monumento sonoro al Musico Ignoto
Agostino Ziino, «A S.M. Umberto I Re d'Italia Augusto Simbolo della Patria e degli Eroi»: l'omaggio musicale come metafora dell'Italia unita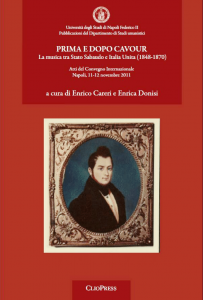 Copyright (c) 2015 Enrico Careri, Enrica Donisi
This work is licensed under a Creative Commons Attribution 4.0 International License.
Details about this monograph
ISBN-13 (15)
978-88-88904-19-1
Publication date (01)
2015-05-24
doi
10.6093/978-88-88904-19-1