Mediterranean-First? Anglo-American Strategic Planning and the Origins of the Allied Occupation of Italy (1939-1943)
Synopsis
Publisher: FedOA - Federico II University Press. 
Series: Clio. Essays in History, Archaeology and Art History (ISSN: 2532-4608). 
Pages: 285. 
Language: Italian.
NBN: http://nbn.depositolegale.it/urn:nbn:it:unina-22050
Abstract: The arrival of the Allies in Italy in July 1943 was not the result of an impromptu decision, but rather of a prolonged debate that involved both political and military agencies in London and Washington for the first four years of the Second World War. The decision to pursue the defeat of the Axis through the invasion of Sicily had been reached by the Anglo-American leaders at Casablanca, in January 1943. The choice to give precedence to Italy in the framework of the European war was by no means a foregone conclusion, and its importance in the strategic developments of World War II in Europe has often been underestimated. This research seeks to re-evaluate the role that the ​elimination of Italy played in the overall strategy developed by the Allies during the first phase of the Mediterranean conflict. The analysis of the political debates, military planning, and strategic appreciations produced by Anglo-American decision-makers in the 1939-1943 period shows that the Allied wartime interest in Italy, its defeat and the occupation of its territory was the result of a long-term design.
Table of Contents
Introduzione
Parte I. La strategia britannica per l'Italia (1939-1941)
1. La non belligeranza italiana (1939-1940)
2. L'intervento italiano e le prime contromisure inglesi (1940)
3. Lo stallo strategico (1941)
Parte II. Combined Planning: gli Alleati nel Mediterraneo (1942)
4. Arcadia e l'inizio della collaborazione atlantica
5. La cooperazione competitive e l'arrivo alleato nel Mediterraneo
6. La nascita della strategia mediterranea e la ricomparsa dell'Italia
Parte III. La scelta del secondo fronte: l'Italia (1943)
7. Da Casablanca a Trident. La scelta siciliana e il dibattito strategico
8. Diatribe mediterranee. La genesi dell'amministrazione alleata
9. Lo sbarco alleato. Husky e la fine del regime
10. L'Italia e la chiusura della campagna mediterranea
Conclusioni
Sigle e abbreviazioni
Fonti
Bibliografia
Indice dei nomi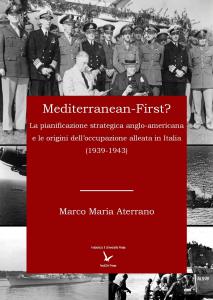 Copyright (c) 2017 Marco Maria Aterrano
This work is licensed under a Creative Commons Attribution 4.0 International License.
Details about this monograph
ISBN-13 (15)
978-88-6887-012-6
Date of first publication (11)
2017-04-21
doi
10.6093/978-88-6887-012-6