University in the fight against mafias: Research, teaching and training
Keywords:
Università, Antimafia, Ricerca, Formazione
Sinossi
Publisher: FedOA - Federico II University Press
Series:  Miscellaneous
Pages: 223
Language: English
NBN: http://nbn.depositolegale.it/resolver.pl?nbn=urn:nbn:it:unina-28789
Abstract:  The commitment of Italian universities to education in the field of legality and to research on the subject of mafias is the main focus of this investigation edited by Stefano D'Alfonso and Gaetano Manfredi. For the first time, data is shown about the overall framework of teaching and research activities dedicated to this topic, with twenty-nine scholars from different academic disciplines and several universities who come together to reflect on the current situation and on the commitment of universities in the fight against mafias, highlighting both strengths and weaknesses of the system. The reflections illustrated here bring to light the dynamic nature of the local and cultural context where universities operate as well as the type of interaction that these institutions maintain with the national and local context. At the same time, it seems clear that great expectations are held at various levels in terms of what universities could do, especially with regards to the demand for knowledge about the best ways to fight mafias. This research reveals that Italian universities possess a considerable capital of knowledge which represents a 'hidden treasure' to be valued and used with the aim of promoting widespread awareness of their role in the anti-mafia field. This book is the result of cooperation between many university professors and researchers, the Parliamentary anti-mafia Committee, the Conference of Italian University Rectors and former minister of University and Research Gaetano Manfredi, under the supervision and coordination of the interdisciplinary research laboratory on mafias and corruption of the Department of Social Sciences of the University of Naples Federico II. This network of professionals and institutions enabled the construction of a significant database where teaching and research activities carried out by scholars from different universities can be identified, across about one hundred academic disciplines.
Downloads
I dati di download non sono ancora disponibili.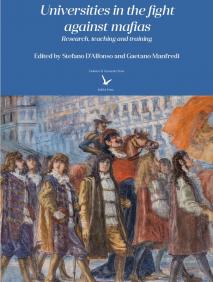 ##submission.downloads##
Copyright (c) 2022 Stefano D'Alfonso, Gaeyano Manfredi (Curatore)
Licenza
Questo lavoro è fornito con la licenza Creative Commons Attribuzione 4.0 Internazionale.
Dettagli su questo libro
ISBN-13 (15)
978-88-6887-145-1
Data di pubblicazione (01)
2022-11-02
doi
10.6093/978-88-6887-145-1