Modernization and local power: the political action of Fiorentino Sullo in Irpinia, 1943-1958
Synopsis

Publisher: ClioPress. Editoria digitale per la didattica e la ricerca storica.
Pages: 544.
Language: Italian.
NBN: http://nbn.depositolegale.it/urn:nbn:it:unina-22041
Abstract: A long-serving leader of the Christian Democratic Party from mid-1940s to late 1950s, Fiorentino Sullo led an intense political action in the province of Avellino, combining exercise of power and political planning, programmatic appeals and rational distribution of resources, political and administrative management of State's intervention in the public sphere and its bodies, efficient control and modernization of the territory. For over fifteen years, he intended to address and solve the typical dilemma faced by every modernizing elite and posed by the clash between the poles of conservation and transformation. His political career was characterized by a deep understanding of the traditional traits of the local communities, persistent and inevitable in the development of the relationship between politics and society. He also highlighted, in his activities, a strong orientation towards political change and the socio-economic development of a backward periphery.
Table of Contents
Prefazione, di Francesco Barbagallo
Ringraziamenti
Sigle e abbreviazioni
I. Origini e formazione della Democrazia cristiana in Irpinia
1. Chiesa e movimento cattolico dal fascismo al dopoguerra
2. Resistenze del passato e limiti del nuovo nella transizione democratica
3. La nascita della Democrazia cristiana
4. Crisi economica, disgregazione sociale, frammentazione politica
5. L'epurazione addomesticata
6. Un partito dall'identità incerta
II. Le premesse del potere democristiano
1. Il triplice voto del 1946

2. I nuovi spazi dello scontro politico

3. L'attivismo di Fiorentino Sullo e i prodromi dell'intervento straordinario

4. Le elezioni politiche del 1948 al di là del dilemma ideologico
III. Politica e società nell'età del centrismo
1. Modalità, caratteristiche e limiti dell'affermazione democristiana

2. Il dominio condizionato della politica

3. L'illusione maggioritaria e la crisi del centrismo
IV. Dalla svolta fanfaniana alla sperimentazione del centro-sinistra
1. Il dibattito sulla classe dirigente e la lotta per la leadership

2. Evoluzione ed espansione del potere democristiano

3. Le elezioni amministrative del 1956 e l'esperimento del centro-sinistra
V. Nuove strategie e geografie del potere
1. Oltre i confini provinciali

2. Una convivenza difficile. Sulliani e basisti all'indomani del XII congresso provinciale

3. Poteri personali e indirizzi politici alla prova elettorale del 1958

4. Dopo il voto. Ciriaco De Mita alla guida del partito
Documenti
Tabelle
Nota illustrativa
1. Referendum istituzionale

2. Il voto di lista

3. La partecipazione al voto

4. Il voto di preferenza democristiano
Cartogrammi
Nota illustrativa
1. Primati di lista

2. Primati individuali

3. Tassi di leaderismo. Fiorentino Sullo
Cartografia
1. La provincia di Avellino

2. I comuni e le aree geografiche della provincia di Avellino, 1958

3. Le zone altimetriche della provincia di Avellino

4. Il grado di sviluppo della provincia di Avellino

5. Ripartizione dei comuni della provincia di Avellino per collegi elettorali del Senato della Repubblica, 1958

6. Ripartizione dei comuni della provincia di Avellino per diocesi, 1958
Indice dei nomi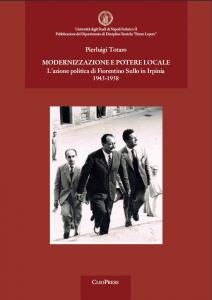 Published
December 24, 2017
Copyright (c) 2012 Pierluigi Totaro
This work is licensed under a Creative Commons Attribution 4.0 International License.
Details about this monograph
ISBN-13 (15)
978-88-88904-16-0
Publication date (01)
2012-10-25
doi
10.6093/978-88-88904-16-0