The Formation of the Christian Democracy Party in Naples (august 1943 – january 1944)
Synopsis

Publisher: ClioPress. Editoria digitale per la didattica e la ricerca storica.
Pages: 125.
Language: Italian
NBN: http://nbn.depositolegale.it/urn:nbn:it:unina-22043
Abstract: In this book, the dynamics of a nascent political organization in relation to the question of powers and institutions of the Southern Kingdom during the years of 1943-44 are analyzed. The Southern party of DC, taking advantage of both old and new forms of politics, would soon benefit, in addition to the experience of Luigi Sturzo's populism, of an emerging political class and of the increased weight of the Church in the material and civil crisis caused by the war. In Naples, one of the foremost political headquarters of the liberated Italy, the Catholic Party faced the difficulty of an unconditional membership carried out by the ecclesiastical hierarchy and large sections of the populace to traditional monarchical authority, while its leading group acted from the inside in the context of the pluralistic political and democracy system going out in Cln.
Indice
Introduzione
I. Le origini
II. Il partito alla vigilia del Congresso di Bari
Indice dei nomi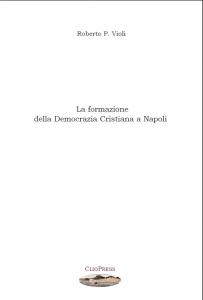 Published
December 24, 2017
Copyright (c) 2004 Roberto P. Violi
This work is licensed under a Creative Commons Attribution 4.0 International License.
Details about this monograph
ISBN-13 (15)
88-88904-04-2
Publication date of print counterpart (19)
2004-12-10
doi
10.6093/88-88904-04-2